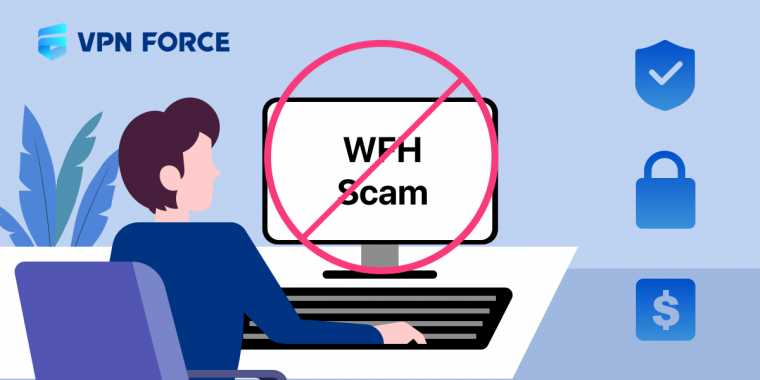 It's been a normal option to work from home based on the rapid development and wide application of the Internet and due to the bolstering of the COVID-19 pandemic. Along with the convenience brought by a new job style, however, WFH scam is also created on the Internet. You're not destined to suffer from work from home scam, but you're suggested to learn how to recognize and avoid it. It's the Internet, you know.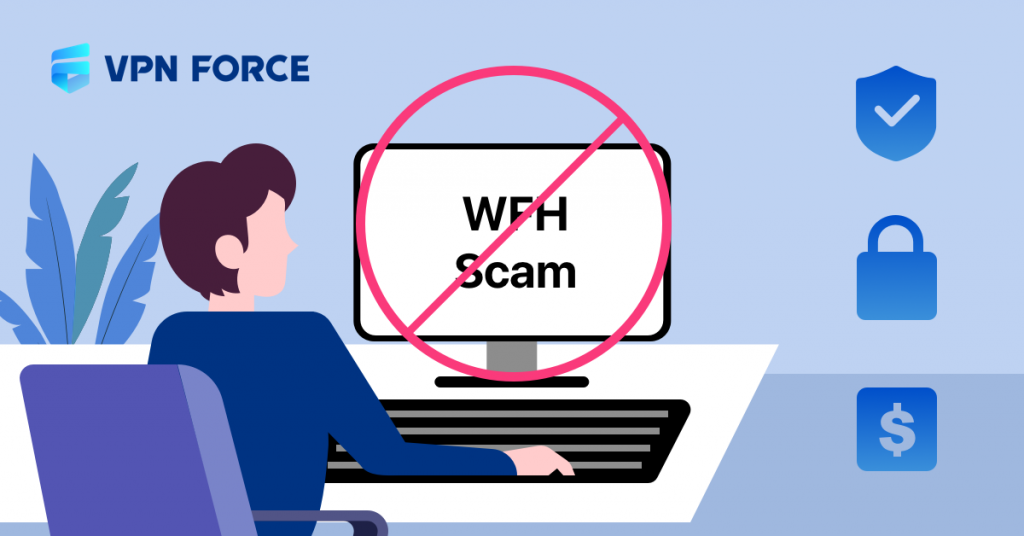 What is Work from Home Scam?
First of all, it's a scam and all scams focus on ONE target: to steal something from you. When it comes to working from home scams, your personal information and money are red-flagged.
A work-from-home scam is a type of scam disguised in job recruitment. The so-called job calling for working at home is actually a fake one and even the information released on the recruitment website is fake concerning company or HR contact.
The essential purpose of work from home scam is to "fish" you to leave your personal information or money so as to take advantage of your online identity or lead you to suffer from economic losses.
Red Flags: Work from Home Scam Signs
Working from home provides a creative work mode allowing people and companies to achieve a budget-convenience balance and it's been used by an increasing number of companies across the globe like Linkedin.
Work from home is a flexible job style for genuine situations while it's nothing but a fishing hook for online scammers.
You have a great number of opportunities to discover a work-from-home scam before it really works as long as the following signs are noticed.
The job sounds too good to be true.
If a job sounds like being too perfect, it is probably a scam. If a job is provided as WFH with an extraordinarily high bonus, low requirement, and short time, you're not meeting a Mr. or Mrs. Job but a scammer. If it feels like a scam, it probably is.
There's little information about the company on the Internet.
Google the company before making a decision about the work from home offer. Generally speaking, a genuine company should have a website and social media channels where their press releases are published. Even if the company has a website but you still have no idea about its leading business it, it's also a sign of a scam.
Try to contact the staff working in the company.
Google the company on the Internet and try to contact the staff currently working in the company and testify the reliability of the company. If you fail to find any information about the current working staff, it is probably a scam. In addition, you can find out the information about the company with the keyword "scam" to see whether similar situations occur to others.
The employer can't wait to let you start to work at any moment.
To establish a relationship with you at a top speed, the scammer will make a quick decision letting you know you've been hired. Whenever that occurs, it's probably a WFH scam. The reason why you're quickly hired lies in the fact that the sooner a link is established between you and the employer, the sooner you'll be scammed.
You should pay before working.
If you're required to pay for the company or employer before real work, it's probably a scam, not a real job. Sometimes, the employer refers to the payment as a type of investment and that's also a scam sign.
There are spelling errors in the recruitment post.
Although it's quite normal to see a spelling error, it shouldn't be in the recruitment post because it's usually a result of hurried and careless editing online. It's a sign of work from home scam.
Other signs of work from home scam
Generally speaking, a business email is usually left on the recruitment website instead of an email ending with @gmail.com that's too personal. If you're required to click a provided link on the Internet, it's also a sign of work from home scam.
How to Avoid Work From Home Scams
Keep the following tips in mind to avoid work from home scams:
Don't reply or click open a suspicious link included in your text message or email;
Don't share your personal or financial information with others via email, SMS messages or calls;
Don't click open any suspicious link even from your family or friends. If you hold doubt about the messages, call them to ensure they haven't been hacked;
Use a VPN to protect your personal information and all online activities from being exposed to the Internet.
Bottom Line
If you, unfortunately, get hacked by work from home scam, do report it to your local government. Even if your loss is difficult to be retrieved, it's still a necessary measure to stop scammers in time.
---
FOLLOW US