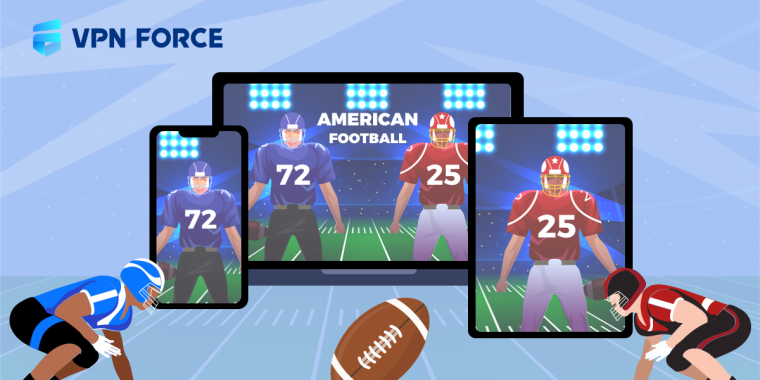 A fan of NFL Game? Then you definitely want to track the ongoing odds on the best bets to win the Super Bowl and learn more relevant information behind each game, such as schedule, game analysis, pre-game, etc. No matter what device you have around, cable, computer, or mobile, a good VPN enables you to follow the exciting games more securely and without geographical restrictions.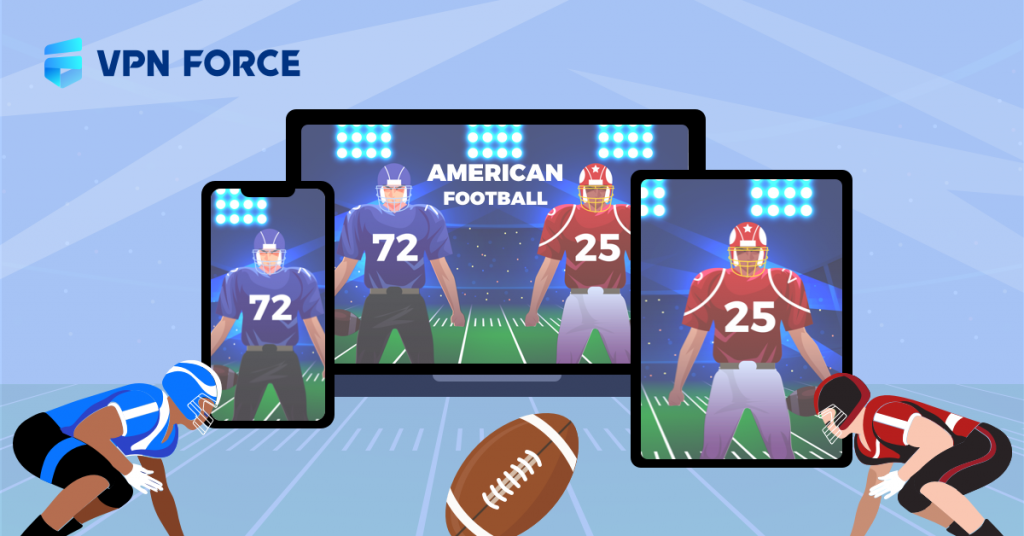 Why is a VPN Needed to Watch NFL Games?
A VPN is a must-use tool to live stream NFL games for everyone unless you don't expect live games.
Without a TV Cable
All live NFL games are available on most TV channels like ESPN but not everyone has a TV cable in their home. For those without a TV cable, online streaming is the best option to follow NFL games. There are multiple NFL streaming service providers that are to be introduced below, but NFL Game Pass is still the first option that is mostly thought of when it comes to NFL game streaming.
Failing to Stream All NFL Games
Unfortunately, not all live streaming games of NFL are available on it if your IP address is in the US. If you want to live stream each NFL game on NFL Game Pass, a VPN can be used to change your IP location into a non-US or non-Europe one.
Common Ways to Watch NFL Games
Watch games on TV in the US
Cable TV is the most common method for NFL game streaming. The NFL's live broadcast rights in the U.S. are split among five, NBC, FOX, CBS, ESPN, and NFL Network. Watching via TV is extremely convenient, but may incur some subscription fees. For example, the NFL Sunday Ticket To Go plan is $73.49 per month for four months and $293.96 for a total year. There is also an NFL Sunday Ticket Max plan for $99 per month for four months and $396 for a year.
But here's a hint for free streaming that you can take advantage of the free trial features of these services. For example, Hulu+Live TV offers a seven-day free trial, while YouTube TV offers a five-day free trial. You can cut some trial-and-error costs by experiencing different TV services and choosing the one that works best for you for a long-term subscription.
NFL Game Pass
NFL Game Pass virtually covers everything you might be interested in NFL – Live streaming of regular season or playoff games, streaming of out-of-market preseason games, on-demand replays of every regular-season game, and NFL Films archived NFL playoffs and Super Bowls.
Live streaming of all NFL games is not allowed under U.S. copyright law. Some games are also blacked out in parts of Europe. On top of that, NFL Game Pass is not fully available to all countries, as some countries have regulations on network restrictions. That's why a VPN should be used.
So, if you are in a region where the platform provides complete NFL coverage, you will feel delighted and satisfied with this site. However, if you happen to be excluded, you can use a VPN to gain access. A good VPN will offer you multiple Internet connection sites, and enable you to view the game quickly, safely, and consistently. Some people also save money by using a VPN and choosing a country with a lower NFL Game Pass fee, such as South America, where you can pay $75 less per quarter.
Other video steaming services
There are many famous live video streaming software and websites that also offer great HD video services. You may be able to easily watch streaming media online for little (or no) cost. But this practice is risky, especially in the United States. Leaving aside copyright issues and the commercial interests involved, their security is questionable. But when you don't have a better option, connecting a good VPN for your favored platform can be a relief. VPN FORCE, for example, can provide you with a steady stream of data while charging very little. Plus, its end-to-end encryption keeps your browsing trail and the IP address from being exposed.
Verizon – This is one of the best ways to enjoy the games for free. Verizon has teamed up with the NFL to bring in-market coverage, primetime matchups, playoff games, and the Super Bowl to its users. You can connect to a US server location with a VPN to download the NFL mobile app, and enjoy games on your phone.
Twitch – Twitch is rich in streaming video games and supports live broadcasts of NFL games. However, it only serves people in the United States. If you are not in the US, you may need a reliable VPN to help you get updates on NFL games using this platform.
Amazon Prime Video – Amazon's Prime Video also offers live NFL games and some exclusive games, but it charges a fee and is limited to the US. If you are not in the US, you will need to connect to a US-based VPN server.
DAZN – DAZN offers different content for different regions. Its Canadian version offers a wealth of NFL games and other sports content for $20 a month. But again, if you're not in Canada, a VPN would be of great help.
A simple guide for you to connect a server location in the US with a VPN:
Get VPN FORCE. Download the app in your devices
Connect to a server location in the US
Sign up and purchase a plan
Sign up or log in to your favorite streaming service
Start now
Important Dates about NFL Games You Should Mark in Your Calendar
To avoid missing out on any game of NFL, the following dates should be kept in mind or recorded in your calendar to follow until the Super Bowl winner.
NFL Draft
Date: April 29 – May 1, 2021
Location: Cleveland, Ohio
Regular Season
Date: September 9, 2021 – January 9, 2022
Location: US
Playoffs
Date: Starting from January 15, 2022
Location: US
Pro Bowl
Date: February 6, 2022
Location: Paradise, Nevada
Super Bowl LV
Date: February 13, 2022
Location: Los Angeles, California
Who's Going to Win the Super Bowl?
Soon after the start of the regular season, several teams have emerged as obvious favorable candidates for the Vince Lombardi Trophy. The previous two years' champions Kansas City Chiefs and Tampa Bay Buccaneers still haven't lost any of their sharpness and edge. They have Patrick Mahomes at quarterback and the legendary Tom Brady at the helm, respectively, making them formidable foes for other teams.
The Buffalo Bills and Green Bay Packers are on the list of strong clubs this year. The Bills' fast offense and the Packers' stout defense are both impressive and eye-catching. In addition, the Baltimore Ravens' dominant rushing attack and stout defense combined to give the other teams a shot.
Looking back at the Super Bowl representatives in the last 12 years, it's not hard to see that the NFC West has dominated the conference. The Los Angeles Rams have a well-balanced squad, the Arizona Cardinals appear to make the most of Kyler Murray's remarkable talent and the San Francisco 49ers could make some noise with solid defense and perfect play-calling from Kyle Shanahan.
For all the 2021 NFL schedule, check this out: https://www.nfl.com/schedules/
Bottom Line
In addition to watching NFL games on TV, you can also easily access resources via the Internet.
A VPN can help you follow NFL games more securely across geographical boundaries.
---